Director - Leonidas Platanias, MD, PhD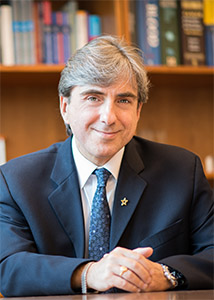 Leonidas C. Platanias, MD, PhD, is director of the Robert H. Lurie Comprehensive Cancer Center of Northwestern University and the Jesse, Sara, Andrew, Abigail, Benjamin and Elizabeth Lurie Professor of Oncology.
Platanias' leadership over the past decade has advanced the growth and expansion of the Lurie Cancer Center's clinical and basic science research operations, including programs to translate research into personalized medicine. His recruitment of numerous outstanding faculty members has helped to further strengthen the Lurie Cancer Center's standing of international prominence. He joined the Lurie Cancer Center as its first deputy director in 2002 and was appointed interim director in January 2014. Platanias was named director of the Lurie Cancer Center in October 2014.
Prior to joining the Lurie Cancer Center, Platanias was professor and chief of the Division of Hematology/Oncology at the University of Illinois at Chicago. He earned his medical degree from the University of Patras Medical School in Greece before moving to Bethesda, Maryland, in 1984 as a Fogarty Fellow at the National Heart, Lung and Blood Institute at the National Institutes of Health. He completed his residency in Internal Medicine at the State University of New York, Downstate Medical Center and a fellowship in Hematology-Oncology at the University of Chicago Hospitals.
In addition to providing leadership as director of the Lurie Cancer Center, Platanias' molecular biology and biochemistry research, spanning more than 20 years and published in more than 250 scientific papers, focuses on signaling pathways in cancer cells and developing novel therapies that target those pathways to treat malignancies.
Among his many career honors, Platanias received the 2013 Seymour & Vivian Milstein Award for Excellence in Cytokine Research. The Milstein Award represents the pinnacle of scientific achievement in cytokine and interferon research. A member of various scientific societies, Platanias served as president of the International Cytokine and Interferon Society in 2010-2011. Platanias' research is funded by five R01 grants from the National Cancer Institute and a Merit Review grant from the Department of Veterans Affairs.
He is also the principal investigator of a NCI T32 training grant in signal transduction and cancer and the American Cancer Society Institutional Review Grant, which provides funding for junior investigators at Northwestern. In addition, Platanias leads the efforts for development of a Leukemia SPORE grant at Northwestern.
Platanias has served as a member or chair of many review committees at the NIH, the Department of Defense and the Department of Veterans Affairs. He is currently a member of the Cancer Immunopathology and Immunotherapy study section at the NIH. He has also completed terms in the Cancer Molecular Pathobiology study section and the Molecular Oncogenesis study section, where he was one of the founding members.
Back to top