Translational Research in Solid Tumors Program (TRIST)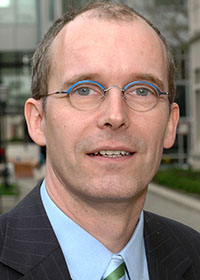 Marcus Peter, PhD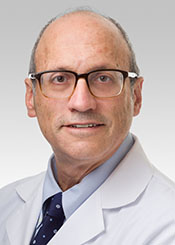 Jeffrey Sosman, MD
The Translational Research in Solid Tumors (TRIST) Program of the Robert H. Lurie Comprehensive Cancer Center of Northwestern University consists of accomplished faculty conducting translational studies centered on the themes of molecular and cell biology, early diagnosis, prognosis, risk factors, therapeutics and treatment of cancer of the aerodigestive tract, dermatologic, gastrointestinal, genitourinary and neuro-oncologic cancers.
The Program Leader is Marcus Peter, PhD. Dr. Peter studies mechanisms of cell death and how cancer cells can be driven into programmed cell death. The goal of Dr. Peter's research is to develop new ways of killing cancer cells that are resistant to many other treatments. This is done in the context of various solid cancers. Novel strategies to kill cancer but not normal cells, and ways to deliver new drugs derived from these efforts are being tested. Jeffrey Sosman, MD, serves as co-leader of the program. Dr. Sosman is widely recognized for his initiatives to bring translational medicine to melanoma therapy. His research includes the study of this most deadly form of skin cancer that has seen great breakthroughs in both targeted therapy and immune-based therapy in recent years. He is also widely recognized for his work with malignancies other than melanoma, such as renal cell carcinoma.
TRIST members have multiple interests and expertise that revolve around a number of focus areas. These include the study of the function and the therapeutic use of siRNAs and miRNAs, the development of nanoparticles for delivery of drugs and oligonucleotides to solid cancers, the role of cancer stem cells in tumor progression, the role of angiogenesis in cancer progression, the study of the balance of cell survival and cell death in solid cancers, and the study of the tumor microenvironment of solid cancers.
The overall goal of the TRIST Program is to coordinate and enhance the interactions among researchers in the area of solid cancers at Northwestern University. The specific goals of the Translational Research in Solid Tumors Program are:
To characterize basic molecular mechanisms of cancer development and progression and identify novel targets for therapy
To develop preclinical animal models to test novel therapeutics to treat solid cancers
To initiate and conduct clinical studies to test and validate novel approaches and technologies for the treatment of solid cancers