Membranes, Organelles and Metabolism (MOM)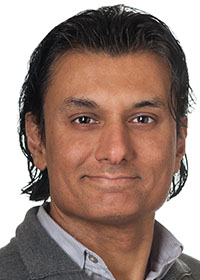 Navdeep S Chandel, PhD
Professor of Medicine & Cell Biology
Division of Pulmonary & Critical Care
Feinberg School of Medicine
Robert H. Lurie Comprehensive Cancer Center

Curt M Horvath, PhD
Professor of Molecular Biosciences
Weinberg College of Arts and Sciences
Robert H. Lurie Comprehensive Cancer Center
The Membranes, Organelles and Metabolism (MOM) Program of the Robert H. Lurie Comprehensive Cancer Center of Northwestern University focuses on elucidating mechanisms by which signals initiated from the plasma membrane and organelles contribute to tumor cell behavior, and how pathogens co-opt these pathways to promote cancer progression. A particular goal of the program is to determine how cell metabolism and metabolic adaptation contributes to tumor growth and how cancer cells activate stress responses in cancer.
The Program Leader Navdeep Chandel, PhD from the Pulmonary Division of the Department of Medicine, is an expert in cancer metabolism. The program co-leader is Curt M. Horvath PhD, from the Department of Molecular Biosciences, who is an expert in interferon signaling and transcriptional regulation in normal and cancer cells.
The goals of the Membranes, Organelles and Metabolism (MOM) Program are to:
Investigate how signal transduction pathways initiated from plasma membrane and organelles are integrated in cancer cells to promote tumorigenesis.
Determine how cells utilize metabolic pathways to dictate cell proliferation, metabolic adaptation, and gene expression thereby modulating tumor growth.
Understand the molecular mechanisms by which pathogens disrupt and/or utilize host signaling pathways to stimulate cancer cell proliferation.
Elucidate the mechanisms by which cancer cells activate stress responses (e.g. hypoxic, heat shock, sirtuins) to support tumor growth.
Future plans of the program are to establish a Metabolomics Core Facility that serves the basic and translational needs of the Lurie Cancer Center community, to partner with the Departments of Biochemistry and Pharmacology to recruit researchers in the area of signal transduction and metabolism, to translate basic findings in metabolism and stress pathways into the clinic and to work with NMDTI to bring metabolic drugs such as metformin into the clinic to treat cancer patients.