Cancer and Physical Sciences Program (CAPs)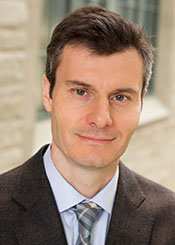 Vadim Backman, PhD
Professor of Biomedical Engineering
McCormick School of Engineering and Applied Science
Robert H. Lurie Comprehensive Cancer Center

Gayle E Woloschak, PhD
Professor
Departments of Radiation Oncology, Radiology, and Cell and Molecular Biology
Robert H. Lurie Comprehensive Cancer Center
Feinberg School of Medicine
The Cancer and Physical Sciences Program of the Robert H. Lurie Comprehensive Cancer Center of Northwestern University unites fundamental chemistry, physical sciences and bioengineering groups whose focus is on developing cancer-relevant therapeutic and diagnostic agents using nano-scale materials and physical sciences approaches.
Vadim Backman, PhD, an internationally-recognized bioengineer in the Chemistry of Life Processes Institute serves as the Program Leader, and Gayle Woloschak, PhD an internationally-known biochemist and molecular biologist in Radiation Oncology and Radiology, is the Program Co-Leader.
This unique interdisciplinary program comprises members who collaborate both intra- and inter-programmatically on a broad spectrum of translational projects. In addition to the strong individual support of CAPs investigators, the strength of these teams is reflected by two large grants from NCI that support the Northwestern University Center of Cancer Nanotechnology Excellence (NU-CCNE) and Physical Sciences Oncology Center (PSOC).
The goals of the Cancer and Physical Sciences Program are to:
Study fundamental mechanisms and identify molecular pathways that control growth, differentiation and oncogenesis by physical science methods;
Develop novel diagnostic agents and techniques that facilitate early detection of cancer and that can be coupled with therapy;
Discover and develop new classes of therapeutic agents that exhibit low systemic toxicity and target factors involved in growth and differentiation of neoplastic cells.
Future plans of the program are to bring technology /pre-clinical teams into clinical trial design and implementation, to develop a track record of adoption to clinical practice of diagnostic and therapeutic techniques, to facilitate commercialization and licensing activities, and to facilitate application of new technologies to cancer research.