Lurie Cancer Center Member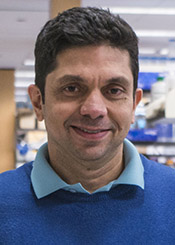 Raj Awatramani, PhD
Academic Title:
Associate Professor, Center for Genetic Medicine; Feinberg School of Medicine
Member of:
Cancer Epigenetics and Nuclear Dynamics (CEND)


Email:
r-awatramani@northwestern.edu

Publications:(23)
View Publications Listing
Cancer-Focused Research:
Topic 1. Mechanisms underlying dopamine neurogenesis

The floor plate, the ventral organizing center in the embryonic neural tube, patterns the neural tube by secreting the potent morphogen Shh. Using genetic fate mapping, we have recently shown that the midbrain floor plate, unlike the hindbrain and spinal cord floor plate, is neurogenic and is the source of midbrain dopamine neurons (Joksimovic, et al, 2009 Nature Neuroscience, PNAS). We are interested in understanding how Wnt signaling affects floor plate neurogenesis and production of dopamine neurons.

Topic 2. MicroRNAs in Schwann cell (SC) differentiation

MicroRNAs, by modulating gene expression, have been implicated as regulators of various cellular and physiological processes including differentiation, proliferation, and cancer. We have studied the role of microRNAs in Schwann cell (SC) differentiation by conditional removal of the microRNA processing enzyme, Dicer1 (Yun et al, 2010, J Neurosci) . We reveal that mice lacking Dicer1 in SC (Dicer1 cKO) display a severe neurological phenotype resembling congenital hypomyelination. SC lacking Dicer1 are stalled in differentiation at the promyelinating state and fail to myelinate axons. We are beginning to determine the molecular basis of this phenotype. Understanding this will be important not only for congenital hypomyelination, but also for peripheral nerve regeneration and SC cancers.
Related News