Lurie Cancer Center Member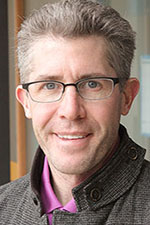 Neil L Kelleher, Ph.D.
Academic Title:
Center Director, Biochemistry and Molecular Genetics; Feinberg School of Medicine
Member of:
Cancer and Physical Sciences (CAPS)


Email:
n-kelleher@northwestern.edu

Publications:(259)
View Publications Listing
Cancer-Focused Research:
The core of the Kelleher Team is built around expertise in technology development for complex mixture analysis using Fourier-Transform Mass Spectrometry for targeted applications in proteomics and metabolomics. Neil's group has a track record built up involving protein separations, mass spectrometric hardware, and success in software development to harness the value of complex data. Kelleher harbors specific interests in the biosynthesis and discovery of polyketides and non-ribosomally produced peptides. Further themes of the Kelleher laboratory include using intact proteins for efficient detection of their post-translational modifications, with specific interests in chromatin and cancer biology. Neil is also the Director at the Proteomics Center of Excellence (PCE), which focuses on the qualitative and quantitative detection of as many cellular components as possible at the protein level. The center will implement known technologies for "Bottom Up", but emphasize the philosophy of 'precision proteomics,' which uses high performance mass spectrometry to deliver protein identifications with very high confidence and in a gene-specific fashion. Quantitation of protein expression and confident assignment of post-translational modifications will also be possible in a highly collaborative framework. The Center will also develop next-generation proteomics using intact proteins (i.e., the "Top Down" approach) and efficiently translate this frontier approach to Northwestern Investigators on the main campus and at the Feinberg School of Medicine.
Related News