Lurie Cancer Center Member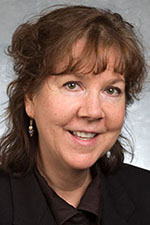 Elizabeth A Hahn, MA
Academic Title:
Associate Professor, Center for Healthcare Studies; Feinberg School of Medicine
Member of:
Cancer Control (CCS)


Email:
e-hahn@northwestern.edu

Publications:(113)
View Publications Listing
Cancer-Focused Research:
Elizabeth is Associate Professor, Department of Medical Social Sciences, Department of Preventive Medicine, and Institute for Healthcare Studies, Feinberg School of Medicine, Northwestern University. She is also Director of the Outcomes Measurement & Survey Core, a shared resource of the Robert H. Lurie Comprehensive Cancer Center of Northwestern University (RHLCCC). She is a medical sociologist whose research is focused on health literacy and health disparities, methodological issues in the measurement and analysis of patient-reported outcomes (PRO) in diverse patients with chronic illnesses, and novel uses of health information technology for underserved populations. She has expertise in qualitative and quantitative research methods, including the application and interpretation of probabilistic measurement models (item response theory; IRT). She teaches in workshops and symposia worldwide on research design, measurement and statistical analysis related to self-report data in culturally diverse populations, and teaches a graduate course on survey design and methodology. She regularly provides mentoring to predoctoral and postdoctoral trainees, including two recipients of an NIMH K23 award and an NCI K07 award.

She is the principal investigator on several grants targeted to underserved populations (AHRQ R01-HS010333, R18-HS017300, R18-HS019335; ACS #TURSG-02-069-01-PBP; NHLBI R01-HL081485). She developed an innovative bilingual (English-Spanish) health information technology (Talking Touchscreen/Pantalla Parlanchina). This multimedia platform allows people with varying literacy, language and computer skills to self-administer PRO questionnaires, to access patient education information, and to self-administer a new IRT-based measure of health literacy. She received the American Cancer Society Trish Greene Quality of Life Manuscript Award in 2005 and the International Society for Quality of Life Research (ISOQOL) Outstanding Article of the Year Award in 2008.