Lurie Cancer Center Professional Events
2017 TRIST Symposium
On Thursday, Sept. 28, the Translational Research in Solid Tumors Program of the Robert H. Lurie Comprehensive Cancer Center of Northwestern University will host the 2017 TRIST Symposium on the Chicago campus of Northwestern University. The focus of the program is "Enabling Immune Checkpoint Blockade in Cancer Therapy."
Register Now for Thursday, Sept. 28
Event Details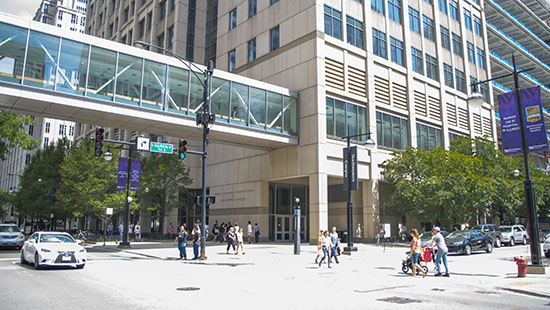 View a Google Map of the event location »
Thursday, Sept. 28
Registration: Noon
Program: 1 p.m. to 5 p.m.
Robert H. Lurie Medical Research Center
303 E. Superior St., Chicago
Baldwin Auditorium
Admission is complimentary, but advance registration is required. Please note that space is limited.
Daily discounted parking is available at the 321 E. Erie Self-Park Garage (Parking C) at the corner of Erie Street and Fairbanks Court. The early-bird flat rate is $17 if you arrive between 5 a.m. and 9 a.m. and depart by 7:30 p.m. (minimum of four hours). Discounted parking is not available at any other garage. No validation of tickets is needed from the conference staff or the hospital.
Agenda
12 PM
Lunch and Registration
1 PM
Welcome and Opening Remarks
Marcus Peter, PhD
Jeffrey Sosman, MD
Lurie Cancer Center
1:10 PM
KEYNOTE LECTURE 1
Response and Resistance to PD-1 Blockade Therapy
Antoni Ribas, MD
University of California Los Angeles
2 PM
Targeted Therapies that Enhance Response to Checkpoint Inhibitors
Ann Richmond, PhD
Vanderbilt-Ingram Cancer Center
2:50 PM
KEYNOTE LECTURE 2
Use of Epigenetic Modification with Immune Checkpoint Therapy
Steve Baylin, MD
Johns Hopkins University
3:40 PM
Combination Immunotherapy Approaches through Understanding the Tumor, the Host, and the Microbiota
Thomas Gajewski, MD, PhD
The University of Chicago
4:15 PM
Next Generation Anti-CTLA-4 Antibodies
Alan Korman, PhD
Bristol-Myers Squibb
4:50 PM
Closing Remarks
Marcus Peter, PhD
Jeffrey Sosman, MD
Lurie Cancer Center
Event Chairs
Marcus Peter, PhD
Robert H. Lurie
Comprehensive Cancer Center
Northwestern University
Back to top