Friday, May 11, 2018
Minds Matter Benefit Dinner
The Northwestern Medicine Lou and Jean Malnati Brain Tumor Institute of the Robert H. Lurie Comprehensive Cancer Center of Northwestern University at Northwestern Memorial Hospital (formerly Northwestern Brain Tumor Institute), is celebrating a decade of collaboration and a future of possibilities for brain and spinal cord tumor patients and their families.
Sponsor or Buy Tickets
Event Details
Join us for an evening dedicated to innovation and progress for patients with brain and spinal cord tumors.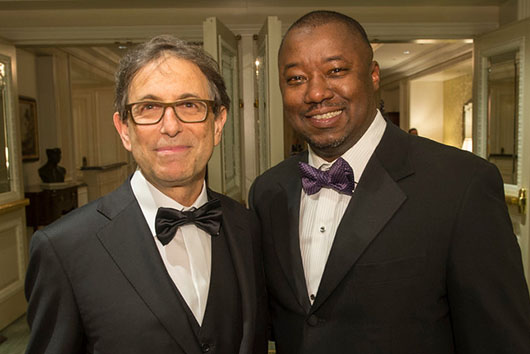 James P. Chandler, MD and Roger Stupp, MD are the Co-Directors of the Malnati Brain Tumor Institute of the Lurie Cancer Center at Northwestern Memorial Hospital
Friday, May 11, 2018
6:00 p.m. Cocktail Reception
7:00 p.m. Dinner
The Ritz Carlton Hotel
160 East Pearson Street
Chicago
Google Map
This special event will feature music by Gentlemen of Leisure and include a live auction.
If you have any questions or would like to move forward with a sponsorship opportunity, please contact Elizabeth Gordon (312.503.0759) or Paige Calace (312.926.0562). 
Sponsorship Opportunities and Tickets
Download Sponsorship Information
Presenting Sponsor (40 Tickets) - $100,000
Underwriting Sponsor (30 Tickets) - $50,000
Sustaining Sponsor (20 Tickets) - $25,000
Patron Sponsor (10 Tickets) - $10,000
Host Sponsor (10 Tickets) - $5,000
NBTI Benefactor (4 Tickets) - $3,000
NBTI Friend (2 Tickets) - $1,500
Individual Ticket(s) - $400
Back to top