Dancing with Chicago Celebrities 2017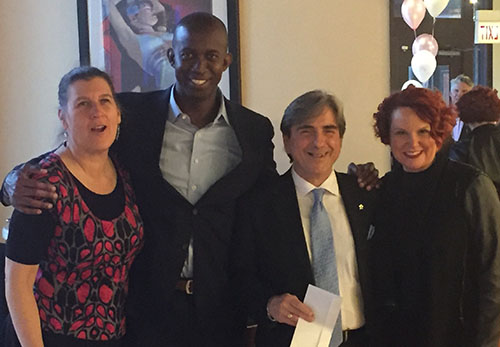 Dancing with Chicago Celebrities (DWCC) celebrated the success of their "Rock Around the Clock"-themed event at a recent reception.
DWCC board members Jane Melvin and Jill DeMarlo joined 2017 Corporate Challenge MVP, Lee Henderson from Ernst & Young, in presenting a check to Lurie Cancer Center Director, Leonidas Platanias, MD, PhD.
Regina Stein, MD, performed the Lindy Hop at DWCC's 12th annual event, to raise funds for breast cancer research and access to care at the Lurie Cancer Center and Northwestern Memorial Hospital. Held at the Hilton Chicago, the benefit attracted over 600 guests and raised more than $300,000 to support the fight against breast cancer.
Back to top