The Campaign 2 Save Lives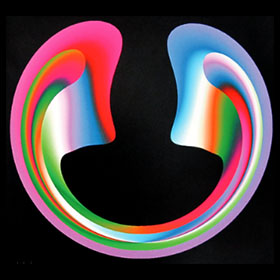 Leukemia is among the most aggressive and lethal forms of blood cancer. Despite dramatic advances in understanding cancer biology, there is still much work left to be done for people affected by these diseases.
The Campaign 2 Save Lives is a $5 million initiative to establish the Leukemia Translational Research Program (LTRP) at the Robert H. Lurie Comprehensive Cancer Center of Northwestern University.
The program's goals are to:
Provide an infrastructure to fast-track discovery and improve patient outcomes and care by opening doors to targeted and more effective treatment options
Offer hope to people living with acute and chronic leukemias, myelodysplastic syndrome and other chronic myeloid neoplasms
Broaden global awareness, promote the importance of stem cell cord blood donations and transplants and expand personalized care and treatment options for patients with these life-threatening cancers
Your philanthropic support will create a lasting legacy and improve the health, education and well-being of our global community for generations to come.
C2SL Icon of Chicago Award
Save the date, Wednesday, May 16, 2018, for the Dinner and the Presentation of the First Annual C2SL Icon of Chicago Award.  More about the event
Donate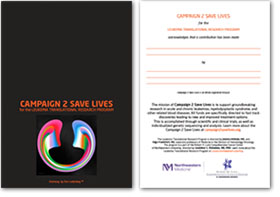 To donate, contact Lauren Pedi, senior associate director of major gifts, at 312-503-4635 or lauren.pedi@northwestern.edu. 
For a $10 donation, a tribute card (see example to the left) will be mailed upon request to the honoree or specific individual. Please be sure to include all required information to ensure we can notify the honoree of your gift. For a $25 donation, you will receive a package of three cards to keep at home for when the occasion arises.
You can also contribute through AmazonSmile, a website operated by Amazon that will donate 0.5% of the purchase price of eligible products to The Campaign 2 Save Lives.
Our Symbol
This symbol represents an original piece of artwork titled "Harmony" that was generously donated by world-renowned artist Dov Lederberg. Mr. Lederberg's donation was made in loving memory his brother, Joshua Lederberg, PhD, the 1958 Nobel Laureate of Medicine & Physiology who discovered that bacteria transfer genes.
Leadership
 Directors
Our directors are global leaders in leukemia research, committed to realizing the Leukemia Translational Research Program's vision to save lives. They seek to bridge the gap between laboratory research and patient care to improve outcomes.
 Executive Committee
Bruce Jacobson - President & Co-Founder 
Barbara Jacobson - Executive Vice President & Co-Founder 
Dan Goldwin - Vice President 
Karyn Davidman - Secretary 
Susan Eby - Treasurer 
 Founders' Governing Board
Daniel Goldwin
Karyn Davidman
Susan Eby
Joan Beard
Morris Beard
Denise Bleichman
Jack Bleichman 
Renee Cohen
Kenneth Davidman
Debbie Dresner
Steve Dresner
Carol Rosenberg Derman, MD
Gordon Derman, MD
Fran Givertz
Alex Goldstein
Marna Goldwin
Jami Josefson, MD
Avi Josefson
The Honorable Alyssa Knobel
Jeremy Knobel
Dorit Lederberg
Dov Lederberg
Debby Oshri-Pintel
Alon Pintel
Norman Pressman, PhD
Laney Pressman
Linda Silvers
Sandy Silvers
Charles Schikman, MD
Eileen Sirkin
Phyllis Theodoropoulos
Gus Theodoropoulos
Caryn Zelinger
Allan Zelinger, MD
 Medical Advisory Board
Jessica Altman, MD 
Gordon Derman, MD 
Carol Rosenberg Derman, MD 
Olga Frankfurt, MD
Leonidas Platanias, MD, PhD 
Charles Schikman, MD
 Young Leaders Board for Community Service, Education & Legislation
Seth Gruen, President 
Jason Davidman
Matthew Davidman
Benjamin Derman, MD
Eric Fahlstrom
Joey Goldshlack 
Daniel Hyman 
Josh Offenhartz
Joseph Piasecki 
Julia Resnick
Lindsay Smith
Emily Steinberg
Nicole Vargas 
Katherine Weikunat
Jason Weil
Sarah Weil
Erin Wold
 Young Leaders Board for Fundraising, Networking & Social Media
Lee Gruen, President 
Stephanie Boddy, Executive Vice President
Brooke Burton 
Nick Coglaniese 
Matthew Davidman 
Yael Derman 
Benjamin Derman, MD
Miriam Dresner
Eric Fahlstrom 
Zak Friedman
Bridget Joyce 
Shelby Lotarski
Josh Offenhartz 
Julia Resnick
Michal Adut (Rose)
Dejon Rose
Jill Stangohr
Christopher Tabor
Nicole Vargas
Katherine Weikunat
Erin Wold
Back to top